The music:
Janis Carper - Sweet Relief
Skok-Carper Music 2020
CD $15

Carper's first solo release in ten years is a collection of original songs written between April and December 2019, recorded during the COVID-19 pandemic quarantine.
Tracks: Sweet Relief, Fire and Flood, I'm Not Thinking About You, Gone, When Will I Ever Learn, Sing Coyote, The Crone and the Crow, Losin' Ground, September Song, 100 Miles to Uniontown, Hunter's Moon, The Long Goodbye, November Skies, Let It Go
Jezebel's Mother - Real Pearls
Skok-Carper Music/Round Barn Records 2017
CD $15

A collaboration of original rootsy, bluesy, lively, lovely music by Carolyn Lochert and Janis Carper.
Tracks: Slow Dance, The Last time, You Never Know, River Don't Care, Far From Here, Blue Eyes, Sometimes, Sad Sad Story, A Thousand Things, A Lot About Love, Shout About it, Real Pearls
Carper & Peterson - Draw From the Well
Skok-Carper Music 2012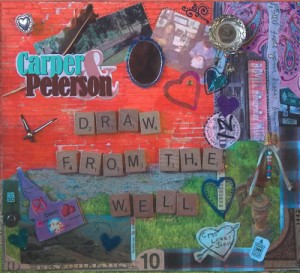 CD $15

Debut CD from Janis Carper and Cris Peterson featuring eleven songs co-written by this dynamic duo.
Tracks: Draw From The Well, Watched You Walk Away, On My Way, Driving Away, Every Road I Travel, Love After Fifty, Take Me As I Am, The Love I Have For You, Ten Dollar Bill, Gonna Fly, Back To Idaho
Songs from the Trailer
Skok-Carper Music 2010
CD $15

Janis Carper solo, featuring a fresh collection of original songs, sparsley produced -- a real "snapshot" of a transitional time.
Tracks: Break Away, When You're Gone, I'll Be Fine Without You, Addiction, Small Town, When It's Over, No Salvation Here, I Call the Crows, Lost Dimension, Two Bucket Woman
---
Songs from the End of the Road
Wallowasong 2008
CD $15

Songs From the End of the Road features three songs from individual songwriters Rodd Ambroson, Carolyn Lochert, Janis Carper and Heidi Muller. Themes reflect life in Wallowa County and Eastern Oregon, relationships, inner strength and social commentary. Learn more at www.wallowasong.com.
Tracks: In Wallowa(Muller), Come Back to Me (Carper), Carlota (Lochert & Sarah Murch), Katy Sue (Ambroson), Keep an Eye on the Moon (Muller), Sister (Carper), This Place (Lochert), Scarecrow (Ambroson), Traveler (Muller), South (Carper), Eastern Oregon (Ambroson).
---
The Alibis
Skok-Carper Music 2005
CD $12

Janis Carper joins bandmates of The Alibis for this 2005 release of original guitar-driven americana, rock and blues. For more on The Alibis, click here.
Tracks: Whatever Happened to True Love - Hoot Owl Blues - Truth of the Matter - Venus and the Moon - Don't Cross That River - Make Me - Figure Me Out - Night Horse - Face in the Moonlight - I'm Just Me - Three Pieces
---
Inside
Skok-Carper Music 1999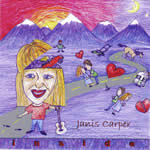 CD $12

This 1999 release from Carper includes fourteen original songs. From rootsy folk-rock to heartfelt ballads, Inside truly showcases Carper's award winning songwriting. Self-produced and recorded at MiCasa Studio in Seattle, WA, this album features the tight harmonies of trio-mates Becca Christel and Tracy Spring, as well as additional backing vocals ay Renee Redeker, Heidi Muller, Connie Bigelow and Allison Roberts, plus a soaring duet with former singing partner Larry Murante. Also featured are Dan Mohler and Walter White on bass. Carper tastefully layers her own multi-instrumental talents on mandolin, lead and slide acoustic and electric guitars, percussion and bass.
Tracks: Halfway Home - Footsteps - Here Came You - Hearts Like These - Whatever Happened To True Love? - Inside - Somewhere In The Middle - Night Horse - Legacy - The Way That She Loves You - Backroads - Where Are You Now? - When You Get Home

"This is a wonderful album showcasing the work of songwriter, vocalist, and multi-instrumentalist, Janis Carper, in nicely layered arrangements . . . Carper's throaty alto resonates with solid womanly strength. Her lyrics are simple, effective poetry without frills. . .Got to hear this one for yourself!"
- Victory Review
---
No Place To Land
Skok-Carper Music 1992
CD $12

Cassette $8
Released in 1992 on CD and cassette, this recording contains twelve original songs ranging from driving country-rock to tender love ballads. This album was recorded at David Lange Studios in Edgewood, WA and produced by Carper and Lange, featuring Carper's vocals, guitars and mandolin. Studio backup includes several of the Northwest's top musicians, including bassists Dan Mohler and Cary Black, percussionist Dave Heath and guitarist John Morton. Other contributing musicians and vocalist are Heidi Muller, TR Ritchie, Renee Redeker, Paul Elliott, Dan Maher, Lisa Theo and Orville Johnson.

Tracks: Stone In My Pocket - Was That You - Holding Me - Delirious - Broken China - Couldn't Hide Our Hearts - Desperate Man
My Father's Farm - Swing On Down to Texas - Next Time - The Highway Never Ends - No Place Like Home
"Carper really comes into her own on this clean well produced and arranged album. ...An excellent album of original songs, superbly executed."
- Chris Lunn - Victory Review
"If I were to start a record label, featuring intelligent country pop with a newgrass flavor, I'd head straight to Seattle and sign singer/songwriter/guitarist Janis Carper in a heartbeat. Carper works the same fertile ground broken by Kathy Mattea: classy, concise, meaningful songs, handsomely sung and supported by a tasteful mix of acoustic instruments."
- The Performing Songwriter
"Carper has all the ingredients and knows how to mix them. Her style and songs vary from folk, rock, country, blues and swing with enough air to let her soaring vocals breathe beautifully and let her melodies shine. She has the grit and growl of Patty Larkin and the country-rock twang of Mary-Chapin Carpenter."
-Dirty Linen
---
More Than Our Share
Christel, Spring & Carper (29 Toes)
CD $12

Songwriters Becca Christel, Tracy Spring and Janis Carper released this debut recording in 1999, featuring the trio's award-winning songwriting and distinct compelling vocals. Self-accompanied on guitar, keyboard, bass, percussion and mountain dulcimer, this recording combines the best of country rock, new folk and jazzed up adult contemporary. More Than Our Share was written, arranged, performed, recorded, engineered, mixed, designed and produced by Becca Christel, Tracy Spring and janis Carper, and demonstrates the unique and abundant talents that have to share.
Tracks: Risky Business - Credit Card Blues - Work and Hope - Whatever Happened to true Love - Walk the Labyrinth - Somewhere in the Middle - Walls come Tumblin' Down - Married Man - Looking Back With You - I Am NOT Your Mother - Inside - Twelfth Birthday Song - More Than My Share
---
The River Runs Home
Skok-Carper Music 1988
Cassette $5

This is a cassette only release from 1988, containing nine of Carper's original songs.
"This really is a nice piece of work...Her mix is flawless ... Her songwriting is also one of the most direct and concise styles I have heard in a long time"
- Dan Maher, Inland Folk
---
Anderson & Skok - In and Out of Rhyme
Skok-Carper Music/Rainstation Records 1986
Cassette $5

This is a recording made in 1986 and released only on vinyl and cassette. It features four songs written by Janis Carper (formerly Janis Skok), as well as three songs written by Chris Anderson and others by Jeff Tassin, Ron Davies and Dan Fowler. It has a pop-folk feel and was produced at David Lange Studios by Anderson & Skok and David Lange. It features Dan Mohler on bass, Dave Heath on drums, and a host of other musicians, including Bill Ramsay on alto saxophone, Jay Mabin on harmonica, and Michael Tomlinson singing a vocal duet with Janis.